A childhood literacy program at the Charles A. Dana Center is no longer the best-kept secret among outreach programs at The University of Texas at Austin.
Literacy First, a program that sends over 100 full-time AmeriCorps tutors into public elementary schools every year to teach Austin's youngest children how to read, has recently been recognized at both national and local levels. The White House recognized Literacy First as a Bright Spot for Hispanic Education last fall. In May 2016, Literacy First received the 2015-2016 Latino Excellence in Advocacy Award from longtime partner Austin ISD. And on September 20, 2016, the Office of the Governor announced that the program would receive a 2016 Governor's Volunteer Award recognizing Partners in Education. These honors acknowledge that what starts at UT truly does change the world.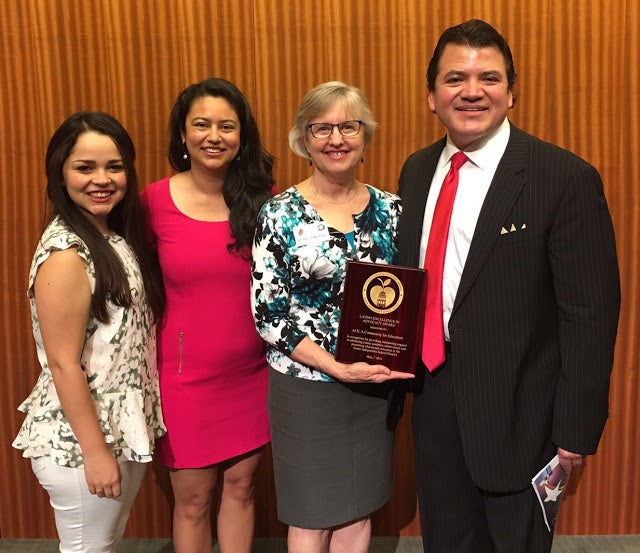 UT's Charles A. Dana Center dedicates itself to providing equitable education to all children, and Literacy First has been exemplifying that mission for over 20 years by making sure that young Austinites in low-income schools can catch up to their more advantaged peers in literacy skills by the time they reach third grade. Children who cannot read well by third grade are four times more likely to drop out of school. Literacy First tutors—many of them recent UT graduates—not only reduce the dropout rate in the community and inspire children to a lifetime of learning, but also represent the university to students who mistakenly believe that college is out of reach.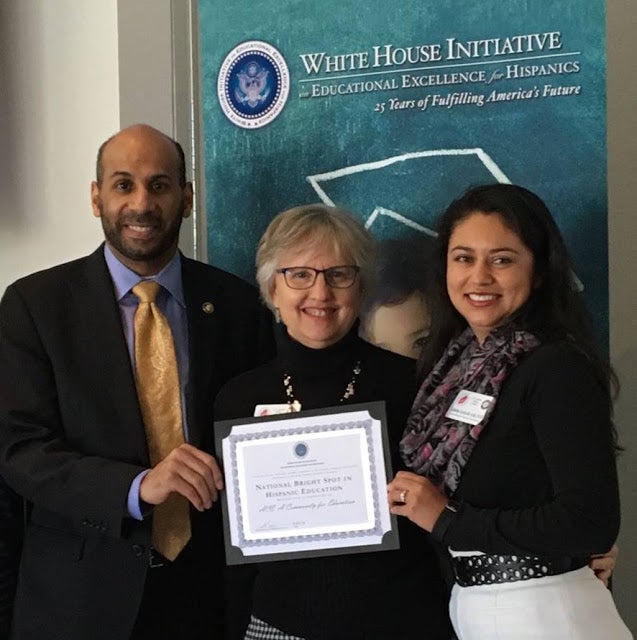 Celebrating with fellow Central Texas Bright Spots in February 25, 2016
from left to right:
Marco Davis, Former Deputy Director of the White House Initiative on Educational Excellence for Hispanics,
Dr. Mary Ellen Isaacs, ACE Director, and Gabi Garcia De Avila, ACE Senior Program Coordinator
Literacy First is changing the world, one future Longhorn at a time.
Yazmin is ready for UT (and she's bilingual!)